Everyone gets 3 free recipes from the P3tolife program! Just scroll down to see it. Enjoy this one.
Sign up for my free mini-course that shows you just HOW the P3tolife program is different from DIY P3 recipe searches on Pinterest.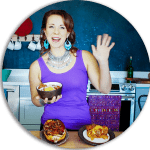 P3toLife Program Testimonial
Hi. I've done 3 1/2 weeks of P3 and am spot on my LDW! I'm ecstatic even after having a few rough days early on. I've never been hungry and have enjoyed cooking the recipes.
later…
Hi Rayzel. I'm back from 16 days in Europe and weigh the same!!!! I can't believe it. My strategies worked for food. I did not want to give up wine but did give up sugar including gelato. I also was very careful of their wonderful bread and limited the amount of nuts we munched on. I found one taste of my husband's apple strudel was all I needed. The fun was in the tasting — no need to eat the whole thing. It also helped that we walked 8-12 miles a day. I'm back on Week one recipes because they taste so so good.
Thank you for everything.
– Sandy
| | |
| --- | --- |
| | |
PREHEAT oven to 400°F. Grease a baking sheet with a bit of butter or spray with non-stick cooking spray. Combine the almond flour, nutritional yeast, salt,garlic powder, and dried parsley/chives (if using) in a large bowl and mix well.

DISTRIBUTE the cold, cubed butter over the top of the almond flour mixture andbegin mixing it in using a fork or pastry cutter. (You can also use your hands, but this will cause the butter to melt, so work quickly.) Continue mixing until the mixture resembles coarse sand. Place in the freezer to keep cold while you prepare the egg whites.

PLACE the egg whites in a large bowl and beat with an electric mixer until stiff peaks form. Slowly sprinkle the almond flour mixture over the egg whites while folding gently. Once combined, drop 6 large spoonfuls of the mixture onto the prepared baking sheet and bake for 10-12 minutes, until golden brown. Serve warm.