Mint Chocolate Chip Ice Cream Cake – BBQ Entertaining Menu
Everyone gets 3 free recipes from the P3tolife program! Enjoy this one. 🙂
Sign up for my free mini-course that shows you just HOW the P3tolife program is different from DIY P3 recipe searches on Pinterest.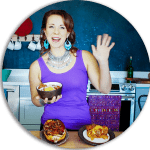 P3toLife Program Testimonial
I'm actually doing GREAT! I completed week 3 and plan on starting with the week 4 recipes in a few days. I had to take a small break over the last few days because of different things like my husbands birthday dinner and another dinner event two days in a row. I did well with those events and I am still only .5 lbs above LDW 🙂 I feel good right now about where I am. The test for me will be in a couple months. That's when I normally start to see the weight creep back on no matter what I do. I am up to 1500 cal. Now however and maintaining well. I haven't eaten this much in years and that makes me happy.
– Kim