Enjoy my recipe below!
Everyone gets a few free recipes from the P3toLife Program. Just scroll down to see it.
Feeling a bit lost with what exactly to eat on Phase 3 of hCG? Get my FREE email mini-course on how to: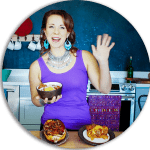 P3tolife Program Testimonial
FINDING YOUR WEBSITE HELPED ME TO NOT HAVE FEAR GOING INTO PHASE 3 AND I DID GREAT!
Thank you for creating this P3tolife website. 6 years ago, I lost 100 pounds with the help of HCG. Although it did take me 6 years to do it – I gained it all back. Finding your website helped me to NOT have fear going into Phase 3 and I did great!!!!!!!!! While your recipes and meal plans were GREAT – it was hearing you talk about it on your videos that gave me so much of a clearer insight into the process. I never really got out of Week 1 and 2 recipes, but following your information, I never gained over my LIW, and after loading for my second round, I was at that same weight that I ended because yes, I had actually gone down some over that break even though I was not intending to.
At the very end of that – before starting again, I heard you talk about "The Weightloss Apocalypse" which I ordered and am GIDDY with excitement over these new insights into why and how this works and the huge roadblocks emotionally to overcoming the addictions of wrong eating patterns.
I feel equipped for this journey now!
Thank you!!!!!!
– Jen
Ingredients
3

slices

turkey bacon

¾

cup

onion

minced

¾

cup

celery

minced

½

tsp

salt

1½

tsp

ghee
Instructions
CHOP the celery and onion fine, either with a food processor or by hand. You want it small so that it cooks quickly. Chop turkey bacon into small pieces.

MELT ghee in a saute pan on medium heat. Once hot, add minced onion and celery.

SAUTE 5 minutes until celery and onion are softened. Add turkey bacon and salt and continue to saute a few more minutes till food is cooked through.
Nutrition
Calories:
233
kcal
|
Carbohydrates:
13
g
|
Protein:
20
g
|
Fat:
12
g
|
Fiber:
4
g
|
Net Carbs:
9
g