Enjoy my recipe below!
Everyone gets a few free recipes from the P3toLife Program. Just scroll down to see it.
Feeling a bit lost with what exactly to eat on Phase 3 of hCG? Get my FREE email mini-course on how to: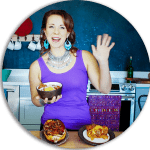 P3tolife Program Testimonial
I lost 15 pounds on Phase 3 before even doing Phases 1 and 2 this time. I went from 260 lbs to 245 lbs just doing phase 3 meal plan . Than I did Phase 2 ( 40 day ) and went from 245 lbs to 222 lbs. I am currently on week 3 of phase 3 and am 225 lbs. After Thanksgiving I am doing another round of Phase 2 ( 26 days ). Hoping to get down to 210 lbs this round and than one more round to get to 200 lbs. I have only cheated on Phase 3 when I make the Lemon Blueberry Muffins or Bacony Eggs cups as They are so good I cannot stop eating them. Thank you so much for your program as I believe I can get down to my ultimate goal weight and learn how to maintain that weight.
One more thing. I completely identified with you Rayzel as so many others did when you share about the sugar addiction, specifically candy and ice cream. I am or was a total binger like you were. I am not currently craving sweets because of these awesome smoothies you have created. Thanks again.
– S
Ingredients
1/4

Granny Smith apple

, with peel (about 50g)*

1/4

tsp

Bakto Natural apple flavor

(can do without, but adds a LOT of appl-ey taste)

1

medium

zucchini

, peeled

1

tsp

Swerve

9 - 10

ice cubes

**

2 - 4

tbsp

water

1

squeeze

lemon juice
Instructions
High Powered Blender: Add liquids/soft ingredients first, then ice, and blend.

Ninja: Add ice first, then rest of ingredients on top. Do crush function first to crush ice. Scrape sides with spatula, then blend.

Both: You will likely need to scrape the sides with a spatula a time or two.
Notes
*Freeze the other quarters of green apple for future smoothies- replace 2 of the ice cubes in the smoothie recipe with 1 frozen green apple quarter
***So I've discovered ice cube size can vary! These are made with ice-cube trays purchased online. If you make your smoothie and it seems too watery/liquidy and not thick like the photo or the video tutorials don't worry, you aren't crazy! Your ice-cubes are just smaller. Either add more ice-cubes or buy some trays online to use. The point is your smoothie should be kind of hard to blend- that's how thick it should be.
Note: Video tutorials of the these smoothies in the Dessert Smoothies Course on p3tolife.com!
Nutrition
Calories:
60
kcal
|
Carbohydrates:
13
g
|
Protein:
3
g
|
Fat:
1
g
|
Fiber:
3
g
|
Net Carbs:
10
g