Enjoy my recipe below!
Everyone gets a few free recipes from the P3toLife Program. Just scroll down to see it.
Feeling a bit lost with what exactly to eat on Phase 3 of hCG? Get my FREE email mini-course on how to: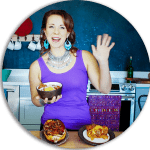 P3tolife Program Testimonial
"Currently, P3, week 2, day 4, my weight has unintentionally decreased from my LIW....and I am post-menopausal, under the care of a Bio-identical Dr. testosterone pellets, estrogen, progesterone and a sluggish thyroid."
Just want to express how much I appreciate your HELP! I just completed my 1st week on P3! The recipes were simply DELICIOUS!  I'm still amazed at the amount of food in each serving! Thank you also for adding the Extra's List of foods when you are still hungry.  Also, the tools that you have shared and the resources like the savory spice shop. The Kiwi knife arrived yesterday and it is quite the knife for $7!!
– Lynda
Ingredients
5

cups

cauliflower florets

(about 2/3 of 1 large head - buy a large head and use remainder, about 3 cups of florets worth, for deviled sweet peppers recipe)

1

Lemon

juice

1

medium clove

garlic

2

tbsp

Tahini

(sesame seed butter)

1

tbsp

extra virgin olive oil

3/4

tsp

sea salt

3

large

carrots

cut into sticks

3

large stalks

celery

cut into sticks

1

bell pepper

cut into slices

smoked paprika

optional garnish

fresh parsley

or cilantro (optional garnish)
Instructions
PREHEAT oven to 425°F and grease a large baking sheet with non-stick cooking spray. Cut the 5 cups of cauliflower into small florets (NOTE: ADD an additional 3 cups of florets if you intend on making the deviled sweet peppers as wellbasically roast the florets of 1 large head), place onto the prepared baking sheet, and roast for 30 minutes.

WHILE cauliflower roasts, add tahini and lemon juice to high speed blender and blend for 1 full minute. Scrape sides and blend 30 seconds more (this creates a creamy-whipped texture) Add the olive oil, garlic and salt, and blend again for approx 1 minute. Remove the cauliflower from the oven and allow to cool slightly, then add the portion of roasted cauliflower for THIS recipe to the blender (remembering to reserve the portion for the deviled sweet peppers) and blend until fairly smooth.

WITH the blender running, add water, 1 tablespoon at a time, until the hummus reaches a smooth and creamy consistency. (For me, this was about 8 tablespoons.) Transfer the hummus to a serving bowl and refrigerate until ready to serve.

GARNISH with smoked paprika and fresh parsley or cilantro, if desired. Serve with carrots, celery, and bell pepper for dipping.
Nutrition
Calories:
94
kcal
|
Carbohydrates:
11
g
|
Protein:
3
g
|
Fat:
4
g
|
Fiber:
4
g
|
Net Carbs:
7
g