Enjoy my recipe below!
Everyone gets a few free recipes from the P3toLife Program. Just scroll down to see it.
Feeling a bit lost with what exactly to eat on Phase 3 of hCG? Get my FREE email mini-course on how to: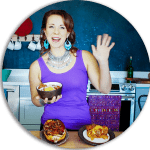 P3tolife Program Testimonial
"WOW! they really are amazing, I enjoy cooking and opted to do the full regular menu."
Hi Rayzel!
First, love the program! especially the recipes!
General feedback on the recipes… WOW! they really are amazing, I enjoy cooking and opted to do the full regular menu. I have 2 children (16 & 13) and a vegan husband. depending on the recipe I add one or 2 servings more - for example the Rosemary butternut squash everyone ate and the proteins varied per person, Spanish Cauli Rice I double, subbed in veggie broth and that was my husband's dinner, my 16 year loves the pad thai without the pork and wants it in her lunch everyday, my husband made a second (vegan friendly) batch of the deconstructed egg rolls now too! I have found it easy to sub out seafood for myself (I had emailed you about that) too! Bravo on the recipes!
Thank you for what you have contributed (and expanded) to the HCG community! I have been a follower/admirer for several years. I love this approach, and find it much different than my previous approaches to P3 - I hope this will mark my membership in the P3 to life tribe!
–Angela
Ingredients
For Steak:
8

oz

flat iron

or skirt steaks, fat trimmed

1

tsp

dried oregano

1

tsp

ancho chili powder

sub chili powder

½

tsp

sea salt
For Tomatoes:
2

cup

cherry tomatoes

1

tsp

ghee

½

tsp

sea salt

¼

tsp

black pepper
For Rice:
2

cup

cauliflower rice

¼

cup

green peas

¼

cup

white onion

minced

½

cup

chicken broth

3

tbsp

tomato sauce

no sugar added

1

tbsp

lime juice

½

tsp

garlic

minced

½

tsp

ground turmeric

½

tsp

paprika

½

tsp

sea salt

2

tsp

ghee
Instructions
PREHEAT oven to 400° F. Line a baking sheet with parchment paper. ROASTED TOMATOES: In a mixing bowl, combine ingredients for roasted tomatoes. Stir to coat. Pour onto baking sheet and roast 30-40 minutes.

CAULIFLOWER RICE: add 2 tsp of olive oil over medium/low heat in a large pan. Add onions and garlic, sauté until they begin to soften, about 5 minutes. Add chicken broth, tomato sauce, turmeric and paprika. Stir to combine. Stir in peas and cauliflower. Season with salt and stir in lime juice. Cook 5 minutes.

STEAK: rub chili powder, oregano, sea salt and pepper on broth sides of steak. Heat a medium pan over medium/high heat and spray with cooking spray. Once pan is very hot, place steak on and cook 3-5 minutes, turn steak over and cook an additional 3-5 minutes. Allow steak to rest 5 minutes.

SLICE steak and serve over cauliflower rice topped with roasted tomatoes.
Nutrition
Calories:
347
kcal
|
Carbohydrates:
20
g
|
Protein:
30
g
|
Fat:
18
g
|
Fiber:
5
g
|
Net Carbs:
15
g