Enjoy my recipe below!
Everyone gets a few free recipes from the P3toLife Program. Just scroll down to see it.
Feeling a bit lost with what exactly to eat on Phase 3 of hCG? Get my FREE email mini-course on how to: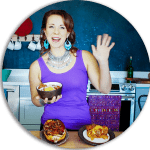 P3tolife Program Testimonial
I am enjoying the recipes and surprised at how good they are! Also, the shopping lists have been a big help in making the plan easy. I have only gone through the first three weeks so far. Also, I have improvised recipes to grill and it has been working out. My family and I love the recipes, thanks for all the hard work!
Later...
July 2, 2018
I am about three weeks into phase 4! My weight is maintaining even with two recent steak days (after phase 3). I have not been able to stick with the HCG menus since summer started. We are so busy and are completely off schedule. I am trying to make recipes from weeks 1-3 because I am familiar with them and can look at the recipe and create a quick shopping list. I am eager to get into week 4-7 menus though!
–Kim
Ingredients
For Meatballs:
½

lb

lean ground turkey

1

egg

*

¼

cup

almond meal

½

tsp

garlic powder

2

tsp

Fresh basil

chopped

2

tsp

ginger

grated

1

tbsp

red curry paste

½

tsp

ground turmeric

¼

cup

onion

minced

½

tsp

sea salt
For Sauce:
½

can

light coconut milk

½

can

coconut milk

2

tsp

red curry paste

½

tsp

ground turmeric

½

tsp

ginger

grated

½

tsp

onion powder

½

tsp

sea salt
Rice + Garnishes:
2

tbsp

Fresh basil

chopped

2

lime

cut into wedges

½

bell pepper

julienned

½

cup

cherry tomatoes

8

oz

button mushrooms

2

cups

cauliflower rice
Instructions
COMBINE ingredients for meatballs in a large mixing bowl. Mix well to combine. Form into 8 golfball sized meatballs. Heat a skillet over medium heat with non-stick cooking spray. Lightly brown meatballs 3 minutes, turn and brown another 3 minutes.

ADD sauce ingredients to crockpot and stir to blend. Turn crockpot to low/medium heat setting.

ADD meatballs. Cook 3 hours until meatballs are cooked through. Add bell pepper, tomatoes and mushrooms and cook an additional 30 minutes. Alternately add all ingredients at one time to save labor.

RICE cauliflower in food processor, pulsing until finely chopped into rice sized pieces. Eat raw OR lightly steam for a few minutes to soften in a shallow pan with 1/2" of water.

SERVE 4 meatballs over 1 cup cauliflower rice and 1 ¾ cup sauce. Garnish with basil or cilantro and a squeeze of lime juice.
Alternate Instant Pot Instructions:
MAKE meatballs as described above - brown with the sauté function in the instant pot with nonstick spray. Add more nonstick spray as needed. Remove meatballs. Add all the sauce ingredients to instant pot and stir with a whisk to blend well. Add back meatballs. Add bell pepper, mushrooms, and tomatoes. Set instant pot to 12 min. Pressure. If you double the recipe, increase pressure time to 24 minutes.
Notes
*If doubling recipe, still use only 1 egg.
Yields: 2 servings
Nutrition
Calories:
594
kcal
|
Carbohydrates:
28
g
|
Protein:
35
g
|
Fat:
39
g
|
Net Carbs:
28
g