Enjoy my recipe below!
Everyone gets a few free recipes from the P3toLife Program. Just scroll down to see it.
Feeling a bit lost with what exactly to eat on Phase 3 of hCG? Get my FREE email mini-course on how to: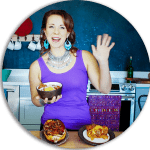 P3tolife Program Testimonial
" I am a busy girl and your program gives me 100% confidence that I will succeed with P3 and P4 for life."
I purchased your program a few weeks ago. It is easy to follow and I am loving it! I am not a cook and your recipes are easy to follow. I have made the bacony egg cups and the turkey chili and froze them. I will make the chicken curry tomorrow and freeze it in prep for next Thursday.
–Kim
Ingredients
8

eggs

* (medium sized)

2

slices

thick cut bacon

**

1

cup

spinach

coarsely chopped

1/2

cup

white onion

chopped

1/3

cup

unsweetened coconut milk

2

tbsp

nutritional yeast

***

1/2

tsp

sea salt

1/2

tsp

black pepper
Instructions
HEAT a large frying pan over medium heat. Add bacon slices and cook 8-10 minutes, flip and cook an additional 8-10 minutes. Set slices aside onto a plate or paper towel to cool. Chop into small pieces.

PREHEAT oven to 350°F and spray 6 muffin tins with olive oil or coconut cooking spray. In a large bowl, whisk together eggs and coconut milk. Stir in onion, spinach, bacon, nutritional yeast, sea salt and black pepper.

USING a 1/3 measuring cup, scoop mixture into prepared muffin tins. Bake 30 minutes. Freeze and microwave as needed or refrigerate up to 5 days.
Notes
*or 6 large eggs
**Most regular bacon has sugar - however, the amount you'd be consuming in the 1⁄2 slice per serving is negligible (like 1/8 tsp). I would personally feel comfortable using regular natural bacon. Many ladies have gone through the P3tolife program now and had no issues with using regular bacon like this when it comes to stabilizing. You can also order specialty sugar-free bacon online.
***low cal boxed kind from refrigerated section. For more info about this, please see the "Coconut Milks" lesson under Shopping Tutorials.
Yields: 3 servings
Nutrition
Calories:
246
kcal
|
Carbohydrates:
6
g
|
Protein:
21
g
|
Fat:
14
g
|
Fiber:
2
g
|
Net Carbs:
4
g