Everyone gets 3 free recipes from the P3tolife program! Just scroll down to see it. Enjoy this one.
Sign up for my free mini-course that shows you just HOW the P3tolife program is different from DIY P3 recipe searches on Pinterest.
Free P3tolife vs Pinterest Mini-Course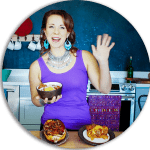 P3tolife Program Testimonial
="I have continued to eat P3toLife recipes and have lost five more pounds since then."
We did an interview back in November and I just wanted to update you. I have continued to eat P3toLife recipes and have lost five more pounds since then. I am excited to feel like I have it under control finally!
Thank you,
–Jessica
Instructions
IN a blender, combine water, almond milk, Swerve, stevia, and strawberries. Blend until smooth. Pour into a measuring cup with pour spout.

STIR in chia seeds and protein powder if using. Pour into 2 small jars. Refrigerate at least 2 hours
Notes
*STEVIA NOTES: 1 scoop = the scoop that comes in stevia bottle = 1/32 of tsp = 1 packet stevia. If you do not have any of this, a few light shakes. If you do not like stevia, use more erythritol-based sweetener to compensate. It's not nearly as sweet so per scoop you may need to add 1-3 more tsp. to taste. Please see the "Sweeteners" tutorial under the Shopping Tutorials section.
**My scoop of protein powder contained 30g by weight, and when I put into some measuring cups it was a little less than 1/2 cup, but more than 1/3 cup. The protein powder scoop I had contained 108 calories and 25g of protein in that scoop of a little less than 1/2 cup. Go more by calories and protein than by amount in this case for whatever protein powder you choose to use. Per serving: 1/2 recipe
NOTE: If you find your chia pudding is not setting up after being in the fridge for a few hours, you can do a couple of things:
1. Your chia seeds may be a bit old- in this case, you can add a little xanthan gum or glucomannan powder to thicken it- probably just 1/8th tsp to 1/4 tsp per serving that you make of this..
2. For future times with same orders seeds, you can use a little less liquid for those seeds.
Nutrition
Calories:
146
kcal
|
Carbohydrates:
18
g
|
Protein:
7
g
|
Fat:
6
g
|
Fiber:
9
g
|
Net Carbs:
9
g