Enjoy my recipe below!
Everyone gets a few free recipes from the P3toLife Program. Just scroll down to see it.
Feeling a bit lost with what exactly to eat on Phase 3 of hCG? Get my FREE email mini-course on how to: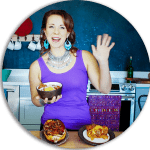 P3tolife Program Testimonial
MY HUSBAND, WHO WAS RAISED ON TWINKIES AND DR PEPPER, WILL EAT SPAGHETTI, CHILI, AND MAYBE FRIED RICE OR SOME OTHER BASIC MEAL. BUT EVERY TIME I COOKED SOMETHING FROM PHASE 3 HE LOVED IT!
I just wanted to thank you for the phase 3 work that you've done because the food really is so good! My husband, who was raised on Twinkies and Dr Pepper, will eat spaghetti, chili, and maybe fried rice or some other basic meal. But every time I cooked something from phase 3 he loved it! I couldn't believe it. I really thought when I embarked on phase 3 that I would be cooking two separate meals every evening. As a matter of fact for months after stopping phase three he would say what happened to those really good meals you were making?!! I told him it's that hcgchica that posted all those meals for us!
I've probably done at least eight rounds of hCG in the last three years. I only followed phase 3 one time, because I think in my brain I really believed that once I was thin I could go back to how I ate when I was 24. Which was Eating healthy most days, working out and then also eating out here and there having a guilty pleasure snack/meal every other day etc. But after each round I continued to fail and gain the weight back. I do have some hormonal issues that definitely play a role in my weight gain, but I know that if I follow phase three for life I wont gain any weight. Because when I did follow P3tolife for six weeks I didn't gain a pound. I didn't lose anymore weight but I didn't gain any and that is HUGE for me. I actually did the (other fitness/diet guru meal plan) app where I tracked my workouts and my calories for two months and I did not lose any weight but instead gained about 8 lbs. It was insane to me that I was eating 1300 cal a day and still gaining. But I really believe looking back now that it was the types of foods I was eating (coupled with my estrogen dominance) that caused the weight gain.
So I am committing a lifestyle change and accepting that I can't go back to the way things were in my 20's! At 44 I do believe that's a much needed and overdue realization!
– Natalie
Stuffed Pesto Peppers - Low Cal
Print
Pin
Rate
Servings:
2
stuffed peppers
Ingredients
STUFFED PEPPERS:
2

large

red bell pepper

11

oz

lean ground turkey

1

cups

cauliflower

riced

1½

cups

zucchini

shredded

½

cup

yellow onion

minced

1

tsp

salt

½

tsp

pepper

1

tsp

garlic powder

¼

cup

pesto

*

2

tbsp

parsley

finely chopped
HOMEMADE PESTO:
3

cups

fresh basil

packed

2

tsp

garlic

minced

¼

cup

pine nuts

¼

cup

olive oil

½

cup

parmesan cheese

freshly grated

½

tsp

black pepper

freshly ground

½

tsp

salt

about ¼

cup

water

to reach desired consistency
Instructions
PREP the pesto, combine all ingredients except for the water in a food processor and pulse until everything is well combined, but still a bit chunky. Pulse in the water about 1 tbsp at a time, until a spreadable consistency is reached.

PREP the stuffed peppers, preheat the oven to 425°F. Cut the peppers in half lengthwise and remove the ribs and seeds. Place the peppers, cut side down, on a baking sheet and bake for about 4 minutes, flip, and bake another 4 minutes, until slightly softened. Remove from the oven and set aside.

HEAT a large pan over medium-high heat. Sauté the onion, riced cauliflower, and shredded zucchini for about 5 minutes, until slightly softened. Add the ground turkey, season with the salt, pepper, and garlic powder, and continue sautéing for 10-12 minutes, until the turkey is cooked through. Remove from heat and stir in the 1/4 cup of pesto. (Remember to freeze the remaining pesto from the recipe.)

STUFF the peppers with the ground turkey mixture. Cover with foil and return to the oven for 10-12 minutes. Garnish with finely chopped parsley.
Notes
Note: This makes about 1 cup of pesto. Reserve 1/4 cup for this recipe and freeze the rest. An easy way to do this is to spoon by the tablespoonful into an ice cube tray, freeze, then pop out and store in a ziploc bag.
I cube = 1 tbsp of pesto.
Nutrition
Calories:
417
kcal
|
Carbohydrates:
21
g
|
Protein:
35
g
|
Fat:
23
g
|
Fiber:
7
g
|
Net Carbs:
14
g