Enjoy my recipe below!
Everyone gets a few free recipes from the P3toLife Program. Just scroll down to see it.
Feeling a bit lost with what exactly to eat on Phase 3 of hCG? Get my FREE email mini-course on how to: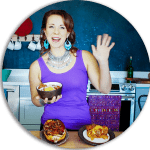 P3tolife Program Testimonial
By the way…LOVED it!!! (the chili). I also made the Apple Spice Mug Muffin. Also delicious! I made double and I think having 3 extras so close would be dangerous for me. Definitely yummy!!! Thanks so much again.
–Tina
Ingredients
Instructions
COMBINE ingredients in a mug or small bowl. Stir

well until smooth and moistened.

MICROWAVE for 1 minute and 50 seconds.

ALTERNATE COOKING METHOD: OVEN
Please note, oven cooking method is temporary guesstimate till fully tested!

PREHEAT oven to 350°F. Pour batter into

mug

, bake

for 25 minutes. I HIGHLY RECOMMEND making several at

a time so you're not spending all that time for 1 muffin.

:)-
Notes
*low cal boxed kind from refrigerated section. For more info about this, please see the "Coconut Milks" lesson under Shopping Tutorials at p3tolife.com.
**STEVIA NOTES: 1 scoop = the scoop that comes in stevia bottle = 1/32 of tsp = 1 packet stevia. If you do not have any of this, a few light shakes. If you do not like stevia, use more erythritol-based
sweetener to compensate. It's not nearly as sweet so per scoop you may need to add 1-3 more tsp. to taste. Please see the "Sweeteners" tutorial on P3tolife.com under the Shopping Tutorials
section. You need to be logged in to view it.
Note: These can be batch cooked too! See instructions under "morning mug muffins" lesson under cooking tutorials on P3tolife.com site.
Nutrition
Calories:
224
kcal
|
Carbohydrates:
14
g
|
Protein:
11
g
|
Fat:
14
g
|
Net Carbs:
14
g