Enjoy my recipe below!
Everyone gets a few free recipes from the P3toLife Program. Just scroll down to see it.
Feeling a bit lost with what exactly to eat on Phase 3 of hCG? Get my FREE email mini-course on how to: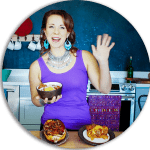 P3tolife Program Testimonial
"I see how planning ahead on recipes and menu planning is so vital to my continued success"
I love your recipes and menus! I also see how planning ahead on recipes and menu planning is so vital to my continued success. This is the first time in my life struggle with weight loss that I am able to have success. But most of all HOPE, knowing I don't have to gain because of lack of knowledge. Thank you Rayzel for sharing your story.
– Marilyn
Ingredients
1

whole

chicken

about 4-5 lbs

1

whole

Lemon

1

head

garlic

4

cloves

garlic

minced

4-5

sprigs

fresh rosemary

1

tbsp

olive oil

1

tsp

sea salt

1

tsp

black pepper

1/2

tsp

dried thyme

1/2

tsp

ground sage
Instructions
PREHEAT oven to 425°F. Remove the giblets from the chicken cavity, rinse the chicken, and pat dry. Place the chicken in a roasting pan or large cast iron skillet. Tie the legs together with kitchen twine and tuck the wings into the side to prevent burning.

CUT the lemon in half; squeeze one half inside the chicken cavity and the other half over the chicken. Place the squeezed lemons in the pan. Cut the garlic in half crosswise and place in the pan. Place several sprigs of the fresh rosemary inside the chicken cavity and the rest in the pan. Carefully run your fingers under the skin of the breast area to separate it and stuff with the minced garlic. Rub the olive oil evenly over the outside of the chicken. In a small bowl mix together the salt, pepper, thyme, and sage. Evenly sprinkle the mixture over the entire chicken.

ROAST for 1 1/2 - 2 hours, until golden brown. Test for doneness by inserting a meat thermometer in the thigh. If it reaches 165°F, the chicken is done.

REMOVE from the oven, cover with aluminum foil, and let rest for at least 15 minutes before serving.
Nutrition
Calories:
259
kcal
|
Carbohydrates:
1
g
|
Protein:
44
g
|
Fat:
8
g
|
Net Carbs:
1
g