Enjoy my recipe below!
Everyone gets a few free recipes from the P3toLife Program. Just scroll down to see it.
Feeling a bit lost with what exactly to eat on Phase 3 of hCG? Get my FREE email mini-course on how to: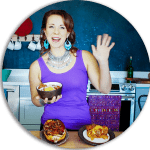 P3tolife Program Testimonial
"I loved the easiness of knowing what to buy and it was already written out, what to cook and how much of it to eat."
I am a P3 to life member but I am back doing my third round of phase 2. I loved the P3 program and actually was able to keep losing weight while on it without being hungry. I loved the easiness of knowing what to buy and it was already written out, what to cook and how much of it to eat. Are you going to have a program like that for P2? I'm having a very difficult time this time around. I would be willing to pay for that program as well because having it that organized really helps me. My hormones are very messed up as I had a hysterectomy a couple of years ago but then a car accident eight months ago that left me with brain injury. And my hormones are affected by that. So while I am at 100 IU of hCG I do get very hungry and an overwhelming desire for sugar.
I do save your Pinterest P2 recipes but I just left having it all together like the P3!
– Kelly
Ingredients
16

oz

crimini mushrooms

or white mushrooms**

2

tbsp

olive oil

4

cups

cauliflower florets

¼

cup

unsweetened almond milk

½

tsp

smoked paprika

½

tsp

garlic powder

½

tsp

sea salt

fresh parsley

Finely chopped for garnish (optional)
Instructions
PREHEAT oven to 425°F. Wipe the mushrooms with a damp cloth to remove any dirt, remove the stems, and set aside. Roughly chop the cauliflower florets and mushrooms stems, place in a large, microwave-safe bowl, and cover with plastic wrap.

MICROWAVE on high for 10 minutes. (Alternatively, steam on the stovetop for 10 minutes or pressure cook in an instant pot for 4-5 minutes.) Allow to cool slightly, then transfer to a food processor or blender (be sure to fully drain so that final mixture is not too liquid for piping) and add the almond milk, paprika, garlic powder, and salt.

BLEND on high until smooth and creamy, scraping down the sides of the food processor or blender as necessary. Place the mushroom caps on a large baking sheet, drizzle with the olive oil, and toss gently to coat.

TRANSFER the filling to a piping bag affixed with a star tip or a Ziploc bag with the corner end snipped off. If the mixtures seem too liquid for piping, allow mixture to set up in fridge for awhile before transferring to the piping bag. Carefully pipe the mixture into the mushroom caps and bake for 15 minutes, until tender and browned. Garnish with finely chopped parsley, if desired. Serve warm.
Notes
Yields 28 mushrooms + 1 2/3 cup filling
*Mushrooms can be prepared a day ahead of time and reheated in a 350°F oven for 5-8 minutes.
**Try to select mushrooms that do not look too "jumbo" in size- I have found the number of mushrooms in an 8 oz package can vary quite a bit. Choose more moderate/smaller mushrooms should yield a total of 28 mushrooms or so for two 8 oz packages, but I've gotten only 19 total before when packages with larger mushrooms was selected.
Nutrition
Calories:
74
kcal
|
Carbohydrates:
6
g
|
Protein:
3
g
|
Fat:
5
g
|
Fiber:
1
g
|
Net Carbs:
5
g