Enjoy my recipe below!
Everyone gets a few free recipes from the P3toLife Program. Just scroll down to see it.
Feeling a bit lost with what exactly to eat on Phase 3 of hCG? Get my FREE email mini-course on how to: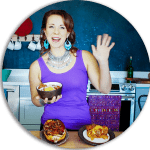 P3tolife Program Testimonial
You have been a total lifesaver! I love your podcasts, website and I have lost 30 pounds on HCG (I'm in round 2 now and your P3 program helped me travel to Cabo and Spain while maintaining my weight loss from round 1.) I'm 56 with two boys (20 and 16) and am active, playing tennis and hiking with my dog- but have been carrying too much weight around since my Mom died and the grief and emotions overtook me. I'm feeling so much happier, vibrant and grateful now that time has healed. I decided to live more fully and be my very best self ("Leveling up- and LOVing up" as my grilfriends and I call it).
I LIVE off of turkey chili (and Miracle noodles in P1) and I cannot tell you how much I love (when I'm in P3) the morning chocolate mug and key lime pie dessert (in fact all your dessert smoothies!). Your recipes are awesome and I'm a reformed Whole30 girl who LOVES WellFed recipes. You are just as, if not more, masterful! Those SAVE my life and keep me on track.
–Janet
Ingredients
FILLING
6

cups

cauliflower

roughly chopped about ½" pieces

1

cup

coconut milk

1/2

cup

Swerve

Small handful

baby spinach

4

tbsp

chopped sugar-free dark chocolate

(such as Lily's brand) OR cacao nibs
Instructions
USE a 6-7" nonstick springform pan. Cut a parchment paper circle for the bottom using the bottom of the pan as a guide and line the bottom of the pan with the parchment circle. If you do not have a pan that small, a plastic storage container or bowl of roughly that size can be used.

FOR THE CRUST, combine the almond flour, shredded coconut, cocoa powder, swerve, optional stevia, and melted butter in a small bowl. Mix until well combined and press into the bottom of the prepared pan. Place the crust in the freezer until ready to fill.

FOR THE FILLING, steam the cauliflower in the microwave or on the stovetop for about 5 minutes, until tender. Allow to cool completely OR Instant pot instructions: manual high pressure for 5 minutes.

COMBINE the cooled cauliflower, chilled coconut milk, Swerve, peppermint extract, and spinach* in a high-speed blender or food processor and blend until smooth and creamy.

STIR in about 2/3 of the chopped chocolate or cocoa nibs and pour over the crust. Sprinkle the remaining chopped chocolate/cocoa nibs over the top of the cake and return to the freezer for at least 5 hours, preferably overnight.

TO SERVE, carefully lift the cake from the pan/mold and slice into 6 pieces. If the cake has been frozen overnight, allow to sit at room temperature for about 5-10 minutes prior to slicing. (Tip: To ease in slicing, run a sharp knife under hot water, wipe dry, slice, and repeat.) Recall that for the leaner version of the P3 menu for yourself you will cut your slice into half once again and eat just one half of your slice.
*For a fancier looking cake do the following:
OMIT the spinach while blending the filling.

RESERVE 1/2 cup of the white filling to be used in a piping bag or ziplock bag to decorate the top later - stick in freezer to get thick.

POUR 1/2 of the rest of the white filling into a bowl, mix with 1.5 tbsp of the chocolate chips/cacao nibs, and pour over the prepared crust.

ADD the spinach to the remaining filling in the blender and blend until smooth

STIR in 1.5 tbsp to the green filling and pour on top of the white filling of the cake.

IDEALLY, let cake harden in the freezer for about 30 minutes - then pull out and use the ½ cup of white filling in the piping bag to decorate the top. Garnish with the remaining chocolate/cacao nibs and freeze.
Nutrition
Calories:
133
kcal
|
Carbohydrates:
8
g
|
Protein:
2
g
|
Fat:
12
g
|
Fiber:
3
g
|
Net Carbs:
5
g