Enjoy my recipe below!
Everyone gets a few free recipes from the P3toLife Program. Just scroll down to see it.
Feeling a bit lost with what exactly to eat on Phase 3 of hCG? Get my FREE email mini-course on how to: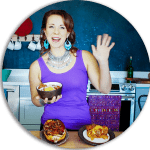 P3tolife Program Testimonial
"Lost 4 lbs. in two weeks following P3toLife"
Congratulations, Rayzel!! You are such a leader in successful weight loss!! I have lost 4 lbs. since my LIW in the first 2 weeks of following your P3toLife program! (After 88 pounds lost on VLCD) Thank you so much for this program!
And then another email…
Thank you! I am so looking forward to week 7 and the "harvest entertaining menu"-what an awesome surprise!! I will have completed 6 weeks as of Thanksgiving-it is my favorite holiday and has been my goal re: being back to normal maintenance eating. I have actually lost 7.3 pounds in my first month on p3to life!
Yes, I am feeling ready to interview with you but would like to wait til after thanksgiving…I have Monday afternoons off so nov 27th would work well. Pick a time and let me know how to prepare!
–Heather
Ingredients
12

mini

sweet peppers

6

egg yolks

hard-boiled (save the whites for the spinach salad)

3

cups

cauliflower florets

roasted (reserved from hummus recipe)

¼

cup

non-fat plain Greek yogurt

1

tbsp

dijon mustard

1

tbsp

apple cider vinegar

¼

tsp

salt

1

pinch

black pepper

smoked paprika

optional garnish
Instructions
FILLING: Combine the hardboiled egg yolks, cauliflower, Greek yogurt, Dijon mustard, apple cider vinegar, salt, and pepper in a small food processor or bullet blender. Blend until smooth and creamy. Transfer the filling to a large zip-top bag. Note: will be easier to pipe this if you allow to cool in the fridge for 1-2 hours. Rinse and dry the sweet peppers, trim the tops, cut in half lengthwise, and remove any ribs and seeds.

SNIP one corner end from the zip-top bag and carefully pipe the filling in to each sweet pepper half. (Note: it can be hard to tell by the eye just how much 1 tbsp of filling piped is- and then you can run out too soon! My advice is to put 1 or 2 peppers you'll save for you using an actual tbsp to measure the amount so you can get a visual of how much filling, then try to copy this amount with the rest of the peppers using the piping bag).

GARNISH with smoked paprika, if desired. Cover and refrigerate until ready to serve.
Alternate Cooking Method - INSTANT POT FOR HARDBOILED EGGS
PLACE whole eggs on grate over 1" of COLD water in Instant Pot and cook on manual LOW pressure for 12 minutes or HIGH pressure for 8 minutes (consensus is better yolks with low 1 pressure) , then dip into cold water unless using immediately.
Notes
Yields 24 peppers + 1.5 cups filling
Nutrition
Calories:
89
kcal
|
Carbohydrates:
5
g
|
Protein:
5
g
|
Fat:
5
g
|
Fiber:
1
g
|
Net Carbs:
4
g