Enjoy my recipe below!
Everyone gets a few free recipes from the P3toLife Program. Just scroll down to see it.
Feeling a bit lost with what exactly to eat on Phase 3 of hCG? Get my FREE email mini-course on how to: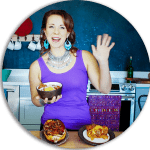 P3tolife Program Testimonial
"The flavors and portions are terrific!"
Love the week one P3 menus. This week I have been having the Mug Cake Breakfast every day! Flaxmeal is a new ingredient for me and my body seems to like it too. Also really like the recipes for Indian Curry Chicken and roasted Veggies and the Light and Hearty Turkey Chili. The flavors and portions are terrific!
–Wendy
Instructions
Combine ingredients in a mug or small bowl. Stir well until smooth and moistened.

Microwave for 1 minute and 30 seconds.
Alternate Cooking Method Oven:
(Please note, oven cooking method is temporary guesstimate till fully tested!) Preheat oven to 350°. Pour batter into mug, bake for 25 minutes. I HIGHLY RECOMMEND making several at a time so you're not spending all that time for 1 muffin. 🙂
Notes
*STEVIA NOTES: 1 scoop = the scoop that comes in stevia bottle = 1/32 of tsps = 1 packet stevia. If you do not have any of this, a few light shakes. If you do not like stevia, use more erythritol-based sweetener to compensate. It's not nearly as sweet so per scoop you may need to add 1-3 more tsp. to taste. Please see the Sweeteners tutorial under the Shopping tutorials section.
Nutrition
Calories:
219
kcal
|
Carbohydrates:
11
g
|
Protein:
12
g
|
Fat:
15
g
|
Fiber:
7
g
|
Net Carbs:
4
g