Enjoy my recipe below!
Everyone gets a few free recipes from the P3toLife Program. Just scroll down to see it.
Feeling a bit lost with what exactly to eat on Phase 3 of hCG? Get my FREE email mini-course on how to: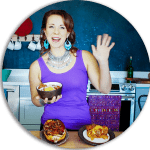 P3tolife Program Testimonial
I used your recipes from P3 faithfully for about five months and now more recently – more sporadically. I absolutely found them very delicious, plus even lost 6 lbs using them faithfully. I appreciate all of your hard work, and the biggest limitation I have is time – and the planning it takes — as I own a business and am married and spend a lot of time with grandchildren on my days off!!
Thank you and my favorites are the mug breads, the smoothies, the lemon garlicky chicken, turkey chili, salmon and brussel sprouts and I absolutely love the flax seed green beans!!! You have been an inspiration to many and so helpful to me personally. Thank you!
– Marilyn
Ingredients
2

tbsp

almond flour

1

tbsp

coconut flour

1

tbsp

flaxseed meal

1

tbsp

Swerve

¼

tsp

baking powder

⅛

tsp

salt

3

tbsp

egg whites

3

tbsp

unsweetened almond milk

¼

cup

strawberries

diced (frozen is fine)

1

tbsp

cacao nibs

1/32-1/16

tsp

powdered stevia

if extra sweetness is desired
Instructions
WHISK together the almond flour, coconut flour, flaxseed meal, baking powder, salt, Swerve, egg whites, and almond milk in a small bowl until just combined. Fold in the diced strawberries and cacao nibs.

SPRAY large mug with non-stick cooking spray and transfer the mixture to the mug.

MICROWAVE for 2 ½ minutes, check doneness, then continue in 30 second intervals until a toothpick inserted comes out clean. (Mine took 3 mins.) Remove from the microwave and allow to cool for several minutes.

MIX together the cream cheese, cocoa powder, and Swerve until smooth. Spread the cream cheese mixture over the muffin and enjoy!
Notes
Yields: 1 mug muffin
*STEVIA NOTES: 1/32 tsp stevia = the scoop that comes in stevia bottle = 1 packet stevia. If you do not like stevia, use more erythritol-based sweetener to compensate. It's not nearly as sweet so per scoop you may need to add 1-3 more tsp. to taste. Please see the "Sweeteners" tutorial on P3tolife.com under the Shopping Tutorials section. You need to be logged in to view it.
Nutrition
Calories:
295
kcal
|
Carbohydrates:
18
g
|
Protein:
13
g
|
Fat:
19
g
|
Fiber:
12
g
|
Net Carbs:
6
g