Enjoy my recipe below!
Everyone gets a few free recipes from the P3toLife Program. Just scroll down to see it.
Feeling a bit lost with what exactly to eat on Phase 3 of hCG? Get my FREE email mini-course on how to: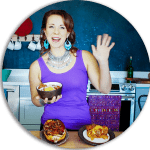 P3tolife Program Testimonial
"I am nearly 6 weeks since I ended HCG and my weight has been stabilized the whole time :-)"
I really think your recipes are great and while I may not make them all (or make them all exactly the same) I think they have been a great resource and helped me to really be aware of not just what I am eating as meal but also what are other great options to have as a snack or dessert. I think your meal plan really has such a great variety to it that it has caused me to think and cook with more creativity (which I love!!)
Honestly, I was a little unsure at first of joining the plan because of the cost but I know I wouldn't be doing nearly as well if I hadn't signed up. I know I'll be making many of these dishes for years to come (like the chia pudding that I love) and it's helped me really enjoy such a variety of food and not gain weight back. I think your website has such great resources and I know it's probably the most frequently opened site I've used the last 6 weeks. Thanks for all your time and effort (and the amazing pictures and work) that goes into something like this. You have certainly found a great niche as this was an area of the diet that was so hard to do as there was no guidance. I appreciate you checking in and keep the different recipes coming!
earlier: March 13, 2018
Thank you so much for your email and for your help. Your tips are really helpful and I am seeing what you mean by people filling up very quickly! You've done a great job with all of this and you've really made the hardest part of this diet so much easier.
–Sandy R.
Ingredients
1

cup

egg whites

¼

cup

sun-dried tomatoes packed in oil

julienned and drained

1

cup

spinach

leaves

1

tbsp

Fresh basil

finely chopped

½

tsp

garlic

chopped

½

tsp

dried oregano

¼

tsp

sea salt

⅛

tsp

black pepper
Instructions
SPRAY a medium non-stick pan with cooking spray. Heat over medium heat.

STIR together egg whites, sun-dried tomatoes and seasonings. Pour into pan. Cook 3-5 minutes or until omelette is mostly cooked through and white.

ADD spinach to one side of the omelette and gently fold the other side over in half using a spatula, covering the spinach. Cook 1-2 minutes longer. Serve hot.
Notes
Make it a Maintenance Recipe (choose one):
FAT: 1 extra whole egg, OR replace whites with 2 eggs (note: this will significantly reduce the protein) OR a few more sun-dried tomatoes OR ¼ cup shredded cheese.
PROTEIN: Add leftover cooked shredded meat.
Yields: 1 serving
Nutrition
Calories:
190
kcal
|
Carbohydrates:
7
g
|
Protein:
29
g
|
Fat:
3
g
|
Fiber:
2
g
|
Net Carbs:
5
g