Enjoy my recipe below!
Everyone gets a few free recipes from the P3toLife Program. Just scroll down to see it.
Feeling a bit lost with what exactly to eat on Phase 3 of hCG? Get my FREE email mini-course on how to: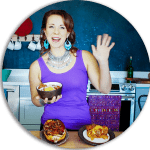 P3tolife Program Testimonial
I'm on P3 now for about 7 months and doing well! I'm really thankful to you for creating your program. It makes it so much simpler to maintain. I did hcg years ago as well, and it was difficult to do P3 trying to come up with my own recipes, your recipe book is an amazing resource. It is so thoughtfully created (the way you've done it by calorie, protein source,etc.) I also love that you are so proactive in updating/adding new things. I know it's a lot of work, and I really, really appreciate it!
– Laura
Instructions
High Powered Blender:
Add liquids/soft ingredients first, then ice, and blend.
Ninja:
Add ice first, then rest of ingredients on top. Do crush function first to crush ice. Scrape sides with spatula, then blend.
Both:
You will likely need to scrape the sides with a spatula a couple times.
Notes
Yields: 1 smoothie
*So I've discovered ice cube size can vary! These are made with ice-cube trays purchased online. If you make your smoothie and it seems too watery/liquidy and not thick like the photo or the video tutorials don't worry, you aren't crazy! Your ice-cubes are just smaller. Either add more ice-cubes or buy some trays online to use. The point is your smoothie should be kind of hard to blend- that's how thick it should be.
**STEVIA NOTES: 1/32 tsp stevia = the scoop that comes in stevia bottle = 1 packet stevia. If you do not like stevia, use more erythritol-based sweetener to compensate. It's not nearly as sweet so per scoop you may need to add 1-3 more tsp. to taste. Please see the "Sweeteners" tutorial on P3tolife.com under the Shopping Tutorials section. You need to be logged in to view it.
Note: Video tutorials of the these smoothies in the Dessert Smoothies Course on p3tolife.com!
Nutrition
Calories:
67
kcal
|
Carbohydrates:
8
g
|
Protein:
2
g
|
Fat:
3
g
|
Fiber:
2
g
|
Net Carbs:
6
g