Enjoy my recipe below!
Everyone gets a few free recipes from the P3toLife Program. Just scroll down to see it.
Feeling a bit lost with what exactly to eat on Phase 3 of hCG? Get my FREE email mini-course on how to: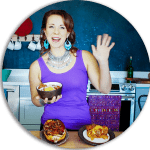 P3tolife Program Testimonial
"Can relate to the sweet tooth downfall, but the sweetness you like will also help me!"
I just wanted to tell you how much I have enjoyed ALL your videos!!!
I have spent a better part of my evening watching and listening to everything you have to say and I am so enjoying you! And like you, my downfall is my sweet tooth (any type of candy works) so I can really relate and love that the sweetness you like will also help me!
Thank you, once again, for all your hard work and dedication to making this life style change a fun and exciting one for all of us!
–Roxane
Ingredients
1/4

cup

water

1/4

cup

plain

low-fat, organic Greek yogurt (single serving yogurt containers will get you 2 servings of this)

1

tsp

lemon extract

or 2 tsp lemon juice

1.5

tsp

Swerve

1

tsp

butter flavor

1/4

tsp

ginger

(if you like more spicy taste add extra 1/8 tsp)

1/4

tsp

vanilla bean powder

or 1/2 tsp vanilla extract

10

ice cubes

*
Instructions
TOPPING:
Put topping ingredients in a small pan on medium heat and stir occasionally until browned. Put in fridge or freezer to cool down if using right away so it doesn't melt your smoothie. I recommend making this topping in bulk to save time for future smoothies. Use 1 tbsp of the topping per smoothie.
High Powered Blender:
Add liquids/soft ingredients first, then ice, and blend.
Ninja:
Add ice first, then rest of ingredients on top. Do crush function first to crush ice. Scrape sides with spatula, then blend.
Both:
You will likely need to scrape the sides with a spatula a time or two.
Notes
*So I've discovered ice cube size can vary! These are made with ice-cube trays purchased online. If you make your smoothie and it seems too watery/liquidy and not thick like the photo or the video tutorials don't worry, you aren't crazy! Your ice-cubes are just smaller. Either add more icecubes or buy some trays online to use. The point is your smoothie should be kind of hard to blend- that's how thick it should be.
Note: Video tutorials of these smoothies in the Dessert Smoothies Course on p3tolife.com!
**Recommended to make the topping in bulk and use 1 tbsp topping per serving. Per serving:
w/o topping: 50 cal - 9 protein - 0 fat - 3 carbs - 3 net carbs
w/topping: 103 cal - 11 protein - 5 fat - 5 carbs - 4 net carbs
Nutrition
Calories:
103
kcal
|
Carbohydrates:
5
g
|
Protein:
11
g
|
Fat:
5
g
|
Fiber:
1
g
|
Net Carbs:
4
g