Enjoy my recipe below!
Everyone gets a few free recipes from the P3toLife Program. Just scroll down to see it.
Feeling a bit lost with what exactly to eat on Phase 3 of hCG? Get my FREE email mini-course on how to: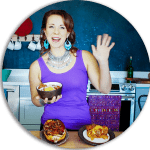 P3tolife Program Testimonial
"Can't believe how much I get to eat – even on trips"
I absolutely love this program. I am in my second week of P3 and love every meal I've made. I can't believe how much I get to eat and I am loving it all. I even had to travel for a few days. I brought my mug muffin in mason jars along with chili portioned out and some other meal. I brought some apples and oranges. I ate lunch out and some organic salad places. I gained like .6 ounces. So that was awesome. Otherwise I have had a hard time no losing weight and staying stable. Thanks so much. This has been the best P3 ever. Love the program.
–Arleen
Ingredients
1/2

cup

whey protein powder

vanilla*

1/4

cup

coconut flour

**

2

eggs

2/3

cup

almond milk

2

tbsp

coconut oil

melted

1/2

cup

blueberries

2

tbsp

lemon zest

1/4

cup

lemon juice

1

tsp

baking powder

1

tbsp

chia seeds

2

tsp

Swerve

1/16

tsp

powdered stevia

***
Instructions
PREHEAT oven to 350 and line 6 muffin tins with paper liners. In mixing bowl, whisk eggs, coconut oil and almond milk until combined. Pour in lemon juice. Stir in chia seeds and lemon zest.

IN a large mixing bowl, combine coconut flour, protein powder and sweetener. Pour egg/oil mixture into flour mixture and stir well. Add blueberries and gently stir to combine.

POUR mixture into muffin tins using a 1/3 cup scoop. Bake 25 minutes. Allow muffins to cool 10 minutes.
Notes
Yields 6 muffins.
*My scoop of protein powder contained 30g by weight, and when I put into some measuring cups it was a little less than 1/2 cup, but more than 1/3 cup. The protein powder scoop I had contained 108 calories and 25g of protein in that scoop of a little less than 1/2 cup. Go more by calories and protein than by amount in this case for whatever protein powder you choose to use.
*Use vanilla flavored protein powder and if the protein powder itself is unsweetened (most protein powders flavored vanilla will have some sort of sugar free sweetener in it, I recommend one with stevia) recipe will need additional Swerve and stevia to compensate otherwise it will not taste good.
**Sub almond flour, it works great too.
***STEVIA NOTES: 1/32 tsp stevia = the scoop that comes in stevia bottle = 1 packet stevia. If you do not like stevia, use more erythritol-based sweetener to compensate. It's not nearly as sweet so per scoop you may need to add 1-3 more tsp. to taste. Please see the "Sweeteners" tutorial on P3tolife.com under the Shopping Tutorials section. You need to be logged in to view it.
Nutrition
Calories:
276
kcal
|
Carbohydrates:
15
g
|
Protein:
19
g
|
Fat:
17
g
|
Fiber:
7
g
|
Net Carbs:
8
g