Enjoy my recipe below!
Everyone gets a few free recipes from the P3toLife Program. Just scroll down to see it.
Feeling a bit lost with what exactly to eat on Phase 3 of hCG? Get my FREE email mini-course on how to: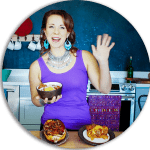 P3tolife Program Testimonial
"Even things I looked at and thought, "Yuck!" -- I tried anyway and really enjoyed!"
I did not have one Correction Day. I followed all three weeks as much as I could. I had to travel the last three days of Week 3. I am a movement specialist so I am active all day with clients. I started to lose weight in the first week, so I re-read some of your info on P3toLife and started adding more protein and/or more veggies.
I love the MUG bread and the desserts! Actually, I love almost every recipe! Even things I looked at and thought, "Yuck!" -- I tried anyway and really enjoyed!
Congratulations to you, your program is fantastic! Keep up the good work!
Much love and gratitude.
–Abby
Instructions
COMBINE all ingredients in a bowl. Mash frozen blackberries into batter with a fork or sharp edge of a spatula (or leave whole).

SCRAPE batter into a mug - allow 3" of space above batter for expansion.

MICROWAVE 2:30-3:00 minutes.
Alternate Cooking Method Oven:
(Please note, oven cooking method is temporary guesstimate till fully tested!) PREHEAT oven to 350°. Pour batter into a mug, bake for 25 minutes. I HIGHLY RECOMMEND making several at a time so you're not spending all that time for 1 muffin. 🙂
Notes
Note: These can be batch cooked too! See instructions under "morning mug muffins" lesson under cooking tutorials on P3tolife.com site.
*STEVIA NOTES: 1 scoop = the scoop that comes in stevia bottle = 1/32 of tsps = 1 packet stevia. If you do not have any of this, a few light shakes. If you do not like stevia, use more erythritol-based sweetener to compensate. It's not nearly as sweet so per scoop you may need to add 1-3 more tsp. to taste. Please see the Sweeteners tutorial under the Shopping tutorials section.
Yields: 1 mug bread
Nutrition
Calories:
285
kcal
|
Carbohydrates:
22
g
|
Protein:
13
g
|
Fat:
19
g
|
Fiber:
10
g
|
Net Carbs:
12
g