Everyone gets 3 free recipes from the P3tolife program! Just scroll down to see it. Enjoy this one.
Sign up for my free mini-course that shows you just HOW the P3tolife program is different from DIY P3 recipe searches on Pinterest.
Free P3tolife vs Pinterest Mini-Course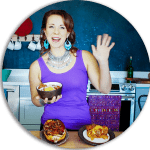 P3tolife Program Testimonial
="Off hcg but Did not gain weight with the recipes"
Hi Rayzel. So sweet of you to check in on me! I have tried a few of the recipes and just love all that I have tried. I am going to be doing another course of hCG (3rd) so I need to be more mindful of what I am eating - you know the drill! So I am back on my eating plan but still love looking at all those yummy recipes that are in my very near future. While I was off the hCG, I did try the creamy lemon chicken with cauliflower, chicken poppers, the chia pudding (which is soo good) and the egg cups. All so good and satisfying. I did not gain weight while I was off hCG and ate these - I did gain 3 lbs. of muscle - not such a bad thing, I would say.
Thanks for checking in and keep up the good work - to all HCGers out there you are our Guardian Angel!
Hugs!
–Kathleen
Ingredients
2

cups

romaine lettuce

shredded

5

oz

chicken breast

butterflied

1/4

cup

red onion

finely chopped

1/3

cup

bell pepper

thinly sliced

1/3

cup

tomato

diced

1/4

cup

avocado

diced

1

tbsp

cilantro

minced

1/2

tsp

cumin

1/8

tsp

sea salt

1/8

tsp

smoked paprika
For Dressing
2

tbsp

non-fat, plain Greek yogurt

2

tbsp

lime juice

1/2

tsp

chipotle powder

*
Instructions
IN a small bowl, stir together onion, tomato and cilantro. Stir to combine.

PREPARE dressing by stirring together Greek yogurt, lime juice and chipotle powder.

ASSEMBLE shredded lettuce, bell pepper, avocado and tomato mixture in a salad bowl.

HEAT a grill pan over medium heat and spray liberally with olive oil cooking spray. Use hands to rub chicken with cumin, paprika and sea salt. Place chicken onto pan and cook 6-7 minutes. Flip and cook an additional 6 minutes. Set chicken on a cutting board and cool 3 minutes. Thinly slice chicken and place onto salad. Pour dressing over salad and stir to coat.
Notes
*If you like less spicy like I do, I'd use only ¼ tsp
Nutrition
Calories:
320
kcal
|
Carbohydrates:
18
g
|
Protein:
36
g
|
Fat:
11
g
|
Fiber:
4
g
|
Net Carbs:
14
g