Enjoy my recipe below!
Everyone gets a few free recipes from the P3toLife Program. Just scroll down to see it.
Feeling a bit lost with what exactly to eat on Phase 3 of hCG? Get my FREE email mini-course on how to: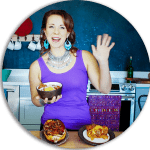 P3tolife Program Testimonial
"The incredible instruction and recipes you have worked so hard to make available to the world has made such a difference."
This time, because of your amazing inspiration and the incredible P3toLife program that I am so thankful to be a member of, not only have I not gained a single pound between rounds, but I have actually LOST more weight in between each of my two rounds! Without even trying! The incredible instruction and recipes you have worked so hard to make available to the world has made such a difference. I doubt that you can even begin to fathom how big a difference you have made in people's lives. I KNOW that my success right now is 100% because I didn't have to go into P3 on a boat without a rudder. I had your plan to show me exactly how I should eat to successfully navigate my way through P3 and on. In my two rounds this year I have not once been more than 2 pounds above my LIW and I didn't need a steak day once. That NEVER happened in my previous 4 rounds!
And through your inspiration, I FINALLY have been able to flip some kind of a switch in my brain that turned on that Aha! light for me that realizes for the first time in my life that I don't NEED to go back to eating the way I grew up eating. In 2016 I couldn't imagine what it would be like to live the rest of my life never eating pasta or candy bars or donuts or any number of other food items again and I was seriously looking for that miracle "thing" that would transform me into a thin person with a thin metabolism so I could eat anything I wanted to eat once I'd lost all the weight. I knew that there was no way I could survive life without all of those things. But this time it has become an entirely new experience.
My love and gratitude goes out to you!
–Robyn
Ingredients
10

oz

chicken breast

cubed

6

oz

cauliflower florets

1

cup

snap peas

1/2

cup

baby corn

1/2

cup

carrots

thinly sliced

1/2

cup

red onion

coarsely chopped

1

cup

full fat coconut milk

1

cup

chicken stock

1/4

cup

Thai yellow curry paste

* or sub curry powder spice

1

tsp

coconut oil

1/2

tsp

sea salt

8

oz

miracle noodles
Instructions
IN a large pot, melt coconut oil over medium heat. Add cubed chicken. Cook 5 minutes uncovered. Stir in carrots and onions. Cook an additional 5 minutes stirring occasionally.

STIR in curry paste and sea salt along with cauliflower, baby corn, snap peas, coconut milk and chicken broth. Bring to a boil. Reduce heat and simmer 15 minutes.

SERVE hot over miracle noodles.
ALTERNATE INSTANT POT DIRECTIONS:
ADD all ingredients except miracle noodles and set to high manual pressure for 10- 12 minutes. If multiplying the recipe, add 5-7 minutes extra for each time you multiply the recipe.
Notes
*You will likely NOT find this curry paste at your local grocery store. Many asian/ethnic markets would carry it. I'd love to recommend you go to the trouble of purchasing this online in advance or checking out a local ethnic market because it's THAT good. The curry powder substitution will make it more of an Indian tasting dish. Still yummy, but the THAI yellow curry is ooooh so good. 1 can will last you for 3-4 recipes worth.
Yields: 2 servings
Nutrition
Calories:
534
kcal
|
Carbohydrates:
30
g
|
Protein:
39
g
|
Fat:
28
g
|
Fiber:
9
g
|
Net Carbs:
21
g