Enjoy my recipe below!
Everyone gets a few free recipes from the P3toLife Program. Just scroll down to see it.
Feeling a bit lost with what exactly to eat on Phase 3 of hCG? Get my FREE email mini-course on how to: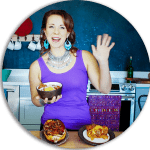 P3tolife Program Testimonial
Going great, I just started week 3 of P3tolife. Am moving and remodeling during all this so haven't had a chance to cook all the recipes (yet) but the mug bread is a lifesaver, as is the pork eggroll in a bowl recipe. Love the dessert smoothies too but often can't eat one, just not hungry. I'm really having to work thru the emotional component of overeating, that's number 1 since the physical "addiction" was pretty much cured with ph2.
Your videos helped me/are helping me deal with all this change. It seems to get harder the longer I'm in p3 but I'm stabilized at 6lbs under my LDW! I've recommended your program to all my friends who are getting on the HCG bandwagon due to my success. One just bought it from the link on your hcgchica site for both her and her husband!
– Michelle
Ingredients
CRUST:
1

lb

ground turkey

2

tsp

garlic

minced

1

tsp

salt

½

tsp

dried thyme
TOPPINGS:
1

tsp

olive oil

3

cups

wild mushrooms

quartered/sliced (a combination of whatever unique shapes you can find at the grocery store)

¼

cup

heavy cream

¼

cup

fontina cheese

shredded, + 2 tbsp, divided

¼

tsp

salt

1

Pinch

pepper

2

tsp

fresh thyme
Instructions
PREHEAT oven to 375°F. Line a pizza stone or heavy baking sheet with parchment paper. Combine the ingredients for the crust in a large bowl and mix until well combined. Spread the crust mixture onto the prepared pizza stone/baking sheet into a circle about 12" in diameter and ¼" thick. Place the mushrooms on a large baking sheet, drizzle with the olive oil, and toss until well coated. Transfer the crust and mushrooms to the preheated oven and bake for 15 minutes. (Check halfway to drain any excess moisture from the crust and give the mushrooms a shake.)

WHILE the crust and mushrooms bake, heat the heavy cream in a small saucepan over medium heat. Once the cream is hot, reduce heat to low and slowly whisk in the ½ cup of shredded fontina cheese. Season with a dash of pepper and keep warm on low until ready to use.

REMOVE the crust and mushrooms from the oven. Blot the crust dry with paper towels and place on a fresh sheet of parchment paper.

SPREAD the cheese sauce over the crust and arrange the mushrooms on top. Sprinkle with the remaining 2 tbsp of fontina and additional salt if desired,and return to the oven for about 5 minutes, until the cheese is melted. Remove from the oven, garnish with fresh thyme, slice, and serve!
Nutrition
Calories:
498
kcal
|
Carbohydrates:
7
g
|
Protein:
50
g
|
Fat:
30
g
|
Fiber:
2
g
|
Net Carbs:
5
g