Enjoy my recipe below!
Everyone gets a few free recipes from the P3toLife Program. Just scroll down to see it.
Feeling a bit lost with what exactly to eat on Phase 3 of hCG? Get my FREE email mini-course on how to: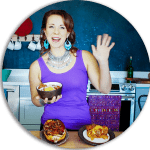 P3tolife Program Testimonial
"The panic is gone! Bring on the holidays!"
Almost two months on P3… and I have lost an extra pound. Usually I gain 3 to 4 lbs. back right away and prepare mentally for that. I did do one steak day, but at this point I am still down, and holding to that extra 1 lb lost. I am so grateful to you for all your effort. I am eating your delicious recipes, but also eating out once in a while. The panic is gone!! Bring on the Holidays?? Thank you.
2nd email some days later...
Good morning!! I just want to say… The recipes so far are absolutely delicious!! I'm always a nervous wreck moving to P3 and always blow it. Your plans are SO helpful!! I'm not strict to the food plans, but I could be!! I have never done so well!! I have lots of new and old stress in my life that would normally have me wringing my hands, but I feel like I can keep my dignity this time. Maybe… I won't be HCG dependent anymore?????? Thank You for all your efforts!! In these crazy, unsettling times….I feel like I have some control at least over my weight.
3rd email even more days later....
Things are still happily going very well, and I really appreciate  everything you have done to make life more enjoyable for all of us. Your tip about cutting out 'safe' nuts and cheese seems to be my Ace!! Thank you!
–Denise
Ingredients
1

lb

chicken thighs

boneless, skinless

½

lb

tomatillos

peeled and quartered

½

green bell pepper

cut into large chunks

½

cup

chicken broth

or water

½

anaheim pepper

chopped

½

pasilla pepper

chopped

¼

cup

white onion

chopped

1

tbsp

ground cumin

½

tsp

garlic

minced

1

tsp

sea salt

optional

1

avocado

diced

1

lime

cut into wedges

1

handful

cilantro

chopped

½

large

butternut squash

peeled and cubed (or riced broccoli)*
Instructions
In a crack pot, combine chicken broth, chicken thighs, tomatillos, Anaheim, Pasilla and bell peppers. Stir in garlic, onion, cumin and salt. Cook on low for 6-8 hours. Remove chicken breasts and shred with a fork. Set aside.

Steam butternut squash covered in a pot with 2 cups of water for 7-10 minutes or until fork tender.

While squash steams, add 1 handful cilantro to the crockpot chile verde and use an immersion blender to blend chili until just slightly chunky.

Stir shredded chicken into chili. Serve over 1 cup steamed butternut squash with the ¼ cup avocado (about ¼ of an avocado), cilantro and lime wedges. Salt to taste.
Alternate cooking instructions, Instant Pot:
BUTTERNUT SQUASH: peel and cube, add about 1 inch of water and the grate to the instant pot, add the cubed butternut squash and set to manual pressure for 10 minutes.

CHILE VERDE: once squash is done, remove and reserve, remove grate, and add all chile verde ingredients to instant pot. Set to manual pressure for 20 minutes.
Notes
*The butternut squash makes this dish a little higher carb than some dishes- if you are uncomfortable with this, you can replace this with riced broccoli - macros below for each: Per serving: 1/2 recipe
w/ butternut squash: 587 cal - 48 protein - 30 fat - 42 carbs - 27 net carbs
w/ riced broccoli: 536 cal - 48 protein - 30 fat - 26 carbs - 16 net carbs
Nutrition
Calories:
587
kcal
|
Carbohydrates:
42
g
|
Protein:
48
g
|
Fat:
30
g
|
Fiber:
15
g
|
Net Carbs:
27
g