Enjoy my recipe below!
Everyone gets a few free recipes from the P3toLife Program. Just scroll down to see it.
Feeling a bit lost with what exactly to eat on Phase 3 of hCG? Get my FREE email mini-course on how to: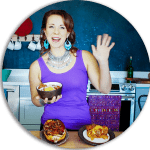 P3tolife Program Testimonial
"Hubby was a happy camper, plus my weight fluctuation was only .6 oz margin daily"
Good morning Rayzel. Hope this finds you well… I am LOVING the P3 program. I actually started last Wednesday evening and pretty much ate 6/6 oz of the P2 food to finish the week (Wednesday to Sunday). I then took my shopping list for P3 (yay!) and got everything we need for week 1… However, I did make your chili over the weekend.. Let's say hubby was a happy camper… and we are making it this evening per the schedule. So far we have made the curry, deconstructed egg roll and chili. I made the blackberry zinger last night… Awesome.
The portion sizes are amazing and I've not been hungry at all!
I am maintaining perfectly! Fluctuating only within a .6oz margin each day!
Thank you so much again. If I have any suggestions, I think I would suggest coming up with an app… haha.. Easier to go to app… Set up like your online site.. In this day and age, apps are good, hehe…
Take care… LOVE THE PROGRAM.
–Elaina
Ingredients
8

oz

lean pork cutlets

thinly cut

8

cups

Napa cabbage

finely chopped

8

oz

shiitake mushrooms

finely chopped

1

cup

carrots

shredded

½

cup

scallions

thinly sliced

⅓

cup

cilantro

chopped

¼

cup

coconut aminos

or gluten-free soy sauce

2

tsp

toasted sesame oil

1

tsp

ginger

peeled and minced

1

tsp

garlic

minced
Instructions
BEGIN by chopping pork cutlets into very small pieces about ½ inch in size. Heat sesame oil in a large pan over medium heat. Add pork and cook 10 minutes or until port is cooked through, stirring regularly.

ADD cabbage, mushrooms, shredded carrots, garlic, and ginger to pan. Stir to combine. Cook 6-7 minutes, stirring occasionally. Stir in coconut aminos and scallions. Continue to cook 3-5 minutes. Garnish with chopped cilantro.
Notes
Make it a maintenance recipe (choose one):
FAT: Use higher fat pork cut OR use an additional 1 tbsp of toasted sesame oil
PROTEIN: Add 2 oz shrimp
CARBS: Add ½ cup toasted rice.
Yields: 2 servings
Nutrition
Calories:
336
kcal
|
Carbohydrates:
32
g
|
Protein:
32
g
|
Fat:
10
g
|
Fiber:
9
g
|
Net Carbs:
23
g