Enjoy my recipe below!
Everyone gets a few free recipes from the P3toLife Program. Just scroll down to see it.
Feeling a bit lost with what exactly to eat on Phase 3 of hCG? Get my FREE email mini-course on how to: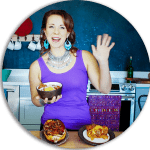 P3tolife Program Testimonial
"I love that I can make these recipes and the meal works for everyone"
Had the chicken poppers last night…..SCORE!!! Everyone loved them so much, I got an A++ from my husband and even my 16-year-old son! I made some cauliflower rice on the side and some stuffed jalapeños for the guys so they would be nice and full, but honestly myself my mom and my daughter all got full on  one serving of the poppers with the pico!
I love that I can make these recipes and the meal works for everyone, and especially since my mom is six weeks into recovery from a major heart attack and heart surgery it is really nice that she can eat it and we know it's healthy! Tomorrow will be two weeks completed on phase 3 and my weight is still holding steady within 1 pound of LIW, woo-hoo!
–Heather
Ingredients
1

lb

97% lean ground chicken

½

cup

zucchini

grated

⅓

cup

white onion

minced

¼

cup

cilantro

finely chopped

1

tsp

cumin

1

tsp

smoked paprika

¼

tsp

garlic powder

½

tsp

sea salt

¼

tsp

black pepper

1

head

bibb lettuce
For Pico de Gallo:
1

cup

roma tomato

diced (about 2 romas)

½

cup

onion

finely chopped

1

handful

cilantro

finely chopped

1

tsp

jalapeño

minced

salt

to taste
Instructions
COMBINE all ingredients for poppers except lettuce in a large mixing bowl. Mix to combine. Form into small patties using a large tablespoon. Patties will be roughly the circumference of a ¼ cup measuring cup.

HEAT a large frying pan over medium heat and spray with nonstick cooking spray. Place poppers on pan and cook 4-5 minutes on each side until cooked through.

WHILE poppers cook, stir together ingredients for pico de gallo. Serve poppers on bibb lettuce and top with pico de gallo.
Notes
Yields: approx 12 poppers.
MAKE IT A MAINTENANCE RECIPE (Choose one)
FAT: Use higher fat ground meat OR top with ½ avocado OR top with 3 tbsp sour cream OR top with ¼ avocado and 2 tbsp sour cream
CARBS: Eat in organic corn tortilla AND/OR Double the pico recipe
Tips when increasing the batch size: So a single recipe should yield 12 poppers, 6 per serving (they are little guys) - so for double recipe would be 24 poppers total (still 6 per serving) However - since you are doubling, I would suggest to save time make the poppers bigger or it might take a while to form and cook 24 separate poppers - maybe do 12 poppers total for the double recipe, then now the serving size is 3 large poppers.
Nutrition
Calories:
325
kcal
|
Carbohydrates:
12
g
|
Protein:
55
g
|
Fat:
6
g
|
Fiber:
4
g
|
Net Carbs:
8
g