Everyone gets 3 free recipes from the P3tolife program! Just scroll down to see it. Enjoy this one.
Sign up for my free mini-course that shows you just HOW the P3tolife program is different from DIY P3 recipe searches on Pinterest.
Free P3tolife vs Pinterest Mini-Course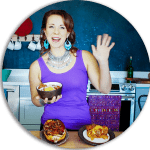 P3tolife Program Testimonial
=""I had an incredibly successful P3.""
I just wanted to let you know. I purchased your P3 and it was the difference maker for me. I had an incredibly successful P3. Only 1 correction day, and even that was borderline.
Your plan helped me SO much! THANK YOU. I'm back to P2 (R2P2D6) and I'm doing fine. I started my journey at 232 pounds size 20. I'm only 4'11 so that's really big! Today I'm 185 and in a 14.
Thank you for being such a help to me in this journey.
–Cathy
Ingredients
6

oz

ground lamb

sub ground beef

6

oz

96% lean ground beef

1

tsp

dried oregano

1

tsp

dried basil

1/2

tsp

ground cumin

1/2

tsp

garlic powder

1/2

tsp

onion powder

1/2

tsp

black pepper

1/4

tsp

sea salt

1

cucumber

2 cups chopped

1

roma tomato

sliced

1/2

medium

red onion

thinly sliced

½

head

iceberg lettuce

or 8 bibb lettuce leaves
FOR TZATZIKI SAUCE:
1/2

cup

non-fat Greek yogurt

2

tbsp

cucumber

grated

1/2

tsp

garlic

minced

1

tbsp

fresh dill

1/4

tsp

sea salt

1/8

tsp

black pepper
Instructions
PREHEAT oven to 300 degrees and line a baking sheet with parchment paper. In a food processor, combine ground lamb and beef. Add cumin, oregano, basil, garlic powder, onion powder, black pepper and sea salt. Blend until mixture forms a smooth purée, scraping sides as needed.

FORM mixture into a loaf 8x5 inches. Bake for 35 minutes. While gyro bakes, stir together ingredients for tzatziki sauce.

REMOVE gyro from oven and turn oven to broil at 500 degrees. Thinly slice loaf lengthwise into 1/8-1/4 inch slices and lay on fresh parchment paper on baking sheet. Broil 4 minutes or until edges have browned.

SERVE warm on lettuce with tzatziki, onion. cucumber, and tomato. For an iceberg lettuce wrap, loosen individual iceberg lettuce leaves by letting the water faucet flow over the head and into the openings in the head- you will feel the outer leaves loosening. Then gently remove them. Use 1-2 iceberg leaves per Gyro. Secure with toothpicks or saran wrap.
Nutrition
Calories:
417
kcal
|
Carbohydrates:
9
g
|
Protein:
40
g
|
Fat:
23
g
|
Fiber:
3
g
|
Net Carbs:
6
g