Enjoy my recipe below!
Everyone gets a few free recipes from the P3toLife Program. Just scroll down to see it.
Feeling a bit lost with what exactly to eat on Phase 3 of hCG? Get my FREE email mini-course on how to: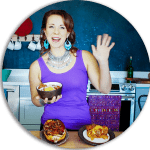 P3tolife Program Testimonial
"I feel in control even at Phase 3!"
This wasn't my first rodeo. I'd done the HCG protocol about five years ago and had been successful at the time. And then I gained all the weight back, and more. I tried a couple more times after that, but wasn't truly committed (as you know, you have to be TRULY committed for this to work) and failed. I swore this time would be different and I knew where the weak spot was -- Phase 3. Phase 1 rocks and Phase 2 (if you're committed) is easy because you just follow the rules exactly and it works. Phase 3 is another story. Just eat low carb! At least that's what I thought. Then why did I gain weight after eating all that bacon???
Then I got the email. Rayzel was starting a new site just for me! I didn't hesitate. The minute it went live, I signed up and I'm so glad I did. Sure, there are recipes and cooking advice and meal planning ideas, but it's the coaching videos that have made the difference. I am now five weeks post-P2, feel great and have actually lost a bit more weight. I feel IN CONTROL. Rayzel has made me think about food differently than I did before and has helped me identify prior pitfalls in order to avoid them. Even though I'm technically in P4, I will continue to go to the Phase 3 to Life site to check for new videos and information. I'll keep watching the original coaching videos that have made me believe that I can be like Rayzel and maintain my weight loss for years this time, not just a few weeks. You know that super hopeful feeling you get when you start a new weight loss plan? This is the first time I've ever had that feeling weeks after finishing and it's because of P3toLife.
I love your videos because you speak candidly and don't use stupid clichés. My favorite coaching sessions are the Triggers & Learning to Identify Lies. For me, those are really powerful.
–Chris
Ingredients
2

medium

zucchini

spiral sliced using 6mm blade

10

oz

chicken breasts

butterflied

2

tbsp

butter

2

oz

pancetta

diced (or 2 slices bacon per 2 oz pancetta, cut into small pieces)

1

cup

frozen peas

1/2

cup

unsweetened almond milk

2

egg yolks

2

tbsp

pine nuts

divided

3

cloves

garlic

minced

1/4

tsp

black pepper

1/2

tsp

sea salt

2

tbsp

Fresh basil

chopped

1/4

tsp

chili flakes

optional
Instructions
HEAT a grill or grill pan over medium heat and spray with olive oil cooking spray. Season chicken breasts with salt and pepper. Place on grill and cook 6-7 minutes on each side. Remove from grill/pan and slice into thin strips.

HEAT a large skillet over medium heat and spray with olive oil cooking spray. Add pancetta, peas, butter and garlic. Cook 5 minutes. In the meantime, whisk together egg yolks and almond milk in a small bowl.

POUR egg mixture into pan with pancetta stirring constantly. Add zucchini noodles, use tongs to gently toss. Divide into two servings. Top with grilled chicken, chopped basil, pine nuts and chili flakes.
Nutrition
Calories:
580
kcal
|
Carbohydrates:
19
g
|
Protein:
48
g
|
Fat:
34
g
|
Fiber:
6
g
|
Net Carbs:
13
g