Enjoy my recipe below!
Everyone gets a few free recipes from the P3toLife Program. Just scroll down to see it.
Feeling a bit lost with what exactly to eat on Phase 3 of hCG? Get my FREE email mini-course on how to: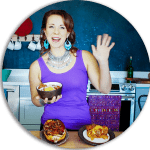 P3tolife Program Testimonial
"I love the recipes. They are worth every penny I paid for the program. I've even served them to guests with rave reviews."
I am doing great. I love the recipes and basically just keep rotating them. I have lost eleven pounds more just making these recipes. All told I have lost thirty-one pounds. I have stabled out and stay within a pound of that weight loss. I have fifteen more pounds to lose but do not want to do the hcg. Even though I lost weight, for me anyway, it was a nightmare. I'm not sure where to go from here to lose the last fifteen pounds. I love the recipes however. They are worth every penny I paid for the program. I've even served them to guests with rave reviews. I still haven't totally mastered the desserts yet but most of the time I don't need them.
–Jean
Ingredients
HERBED PORK CHOP
12

oz

pork chops

1

tsp

dried thyme

1/4

tsp

dried rosemary

1/4

tsp

sea salt

1/8

tsp

black pepper

1

tsp

grass-fed butter

or olive oil
ROASTED CAULI-TATO SALAD
1

lb

cauliflower florets

1

cup

celery

sliced

1

medium

red onion

coarsely chopped

2

tbsp

bacon bits

1/4

cup

sour cream

2

tbsp

horseradish Dijon mustard

1-2

tbsp

fresh sage

chopped

¼

cup

fresh Italian parsley

minced

1

tsp

white vinegar
Instructions
PREHEAT oven to 400 degrees and line a baking sheet with parchment paper. Spread cauliflower, celery and red onion on baking sheet. Roast for 10 minutes. Remove from oven and cool to room temperature.

WHILE vegetables cook, coat pork chops in seasonings on both sides. Heat a medium skillet over medium heat and melt butter. Add pork chops to pan and cook 8 minutes each side.

IN a large mixing bowl, combine sour cream, horseradish mustard and white vinegar. Stir to combine. Pour in roasted vegetables and herbs. Stir again. Finish with bacon bits. Serve alongside pork chops.
Nutrition
Calories:
414
kcal
|
Carbohydrates:
19
g
|
Protein:
38
g
|
Fat:
17
g
|
Fiber:
9
g
|
Net Carbs:
10
g