Enjoy my recipe below!
Everyone gets a few free recipes from the P3toLife Program. Just scroll down to see it.
Feeling a bit lost with what exactly to eat on Phase 3 of hCG? Get my FREE email mini-course on how to: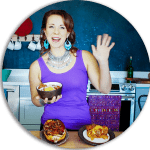 P3tolife Program Testimonial
"we are in love with P3toLife, it makes our already hectic lives more bearable"
Hi Rayzel and team,
First of all thank you for all the inspiring work you do. It is helping my wife and I get our lives back and for me personally breaking the chains of being a slave to sugar.
Secondly, we are in love with P3toLife, it makes our already hectic lives more bearable 🙂 The things we love about the P3toLife guide- here are a few bullets:
We are both artists so we love the beautiful colorful pictures and the layout.
I like that you take the time to separate and designate the separate weeks in the PDF layout so you aren't having to fish though a huge file to find that 1 dessert recipe you are looking for.
The recipes are inspiring and beautiful; thanks for including global recipes. We love the Asian stuff, well we haven't tried them yet, but they look incredible 🙂
The shopping lists are amazing.
Overall we love how much time we will save, I don't have to plan, drive to the store, shop, get tempted by sweets, and drive home. Now we can just order the groceries online and have them ready to go!
Thank you to your dedication and inspiring coaching videos. I love when you had your brother do the 5 second wrap up...you should do that more often for all us fellas out here.
–Christopher
Ingredients
1/2

cup

yellow onion

diced

1

cup

green bell pepper

diced

1

cup

celery

diced

3

tbsp

ghee

2

cup

canned petite diced tomatoes

10

oz

chicken thighs

boneless, skinless, cut into 1/2" cubes

12

medium

shrimp

peeled and deveined

3

cups

cauliflower rice

1

cup

low-sodium vegetable stock

1/2

tsp

sea salt

1/2

tsp

black pepper

1/2

tsp

garlic powder

1

tsp

smoked paprika

1/2

tsp

oregano

1

pinch

cayenne pepper

to taste, optional
Instructions
HEAT the ghee in a large skillet over medium-high heat. Add the onion, bell pepper, and celery. Sauté for 3-5 minutes, until the vegetables are tender and lightly browned. Add the tomatoes and chicken to the pan along with all of the seasonings. Continue cooking for 5 minutes, stirring often.

STIR in the cauliflower rice, vegetable stock, and shrimp.

COVER, reduce heat to low, and simmer for about 5 minutes, until the cauliflower rice is tender and the shrimp are cooked through.
Nutrition
Serving:
0.5
recipe
|
Calories:
562
kcal
|
Carbohydrates:
30
g
|
Protein:
41
g
|
Fat:
33
g
|
Fiber:
9
g
|
Net Carbs:
21
g