Enjoy my recipe below!
Everyone gets a few free recipes from the P3toLife Program. Just scroll down to see it.
Feeling a bit lost with what exactly to eat on Phase 3 of hCG? Get my FREE email mini-course on how to: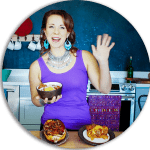 P3tolife Program Testimonial
P3 is going great! I'm going into my 3rd week! I have rediscovered the joy of cooking and I love using powers quick pot. I am so happy. I have lost a few more pounds and I am full and satisfied. I was dreading this phase. I felt I would be hungry and that I would binge but found your program and has been amazing! I love the cooking day options. It has been an amazing experience and I am not afraid of Phase 4. I'm actually looking forward to. I have matured in my eating habits. I am really grateful. Thank you for all you do! The biggest hug!
– Jeannie
Ingredients
CAKE:
3/4

cup

almond flour

1/4

cup + 1 tbsp

coconut flour

1 1/2

tsp

cinnamon

1/2

tsp

nutmeg

1/4

tsp

ground cloves

1

tsp

baking soda

4

tbsp

butter

melted

2

tbsp

non-fat plain Greek yogurt

3

egg whites

1

egg

1/3

cup

Swerve

1/4

cup

unsweetened almond milk

1 1/2

cups

Granny Smith apple

finely chopped
TOPPING:
1/4

cup

pecans

chopped

1

tbsp

almond flour

1

tbsp

butter

melted

2

tsp

Swerve
Instructions
PREHEAT oven to 350°F. Grease a 9" springform or cake pan with nonstick cooking spray.

COMBINE the almond flour, coconut flour, cinnamon, nutmeg, cloves, baking soda, and salt in a large bowl. Whisk to mix the ingredients and break up any lumps. In a separate bowl, or a blender, whisk or blend the melted butter, Greek yogurt, egg whites, egg, Swerve, and almond milk until light and frothy. Slowly pour the wet ingredients into the dry ingredient and stir until just combined. Fold in the chopped apples* and allow the batter to stand while you prepare the topping. (The batter will be thick.)

FOR the topping, combine the chopped pecans, almond flour, melted butter, and Swerve in a small bowl and toss with a fork or your fingers until well combined.

SPOON the cake batter into the prepared pan and smooth out with the back of the spoon until even. Evenly sprinkle the topping over the top and lightly press into the cake batter. Bake for 30-35 minutes, until golden brown around the edges and a toothpick inserted into the center comes out clean. Remove from the oven and cool on a wire rack.
Notes
Yields 9" cake
*OPTIONAL CAKE DECORATING: If you'd like to give your cake a slightly more decorated look, I chose to reserve just a few pieces of apple cubes to place gently on top of the raw cake before I slid it into the oven as you will see in the photos. I also sprinkled a little confectioner's SWERVE on top in a swirl shape.
**SPECIAL NOTE ABOUT SERVING SIZE - in trying to strike a balance between eating well for you while on Phase 3, with your guests having what would be considered most "normal" to them when it comes to size, this cake is actually designed to be 6 large pieces.
However, YOUR piece you would actually then be cut in half again to reflect the calories/macros above (meaning you are eating 1/12 of the cake, not 1/6th- your slice will be half the size of your guests, if you want to follow these macros).
Additionally, you can pair this with vanilla ice-cream for your guests if you choose. This was the best way to do this so that your guests aren't eating a piece of dessert that would seem too small to them. IF you decide you'd like a full slice like everyone else, just consider that in your macros and your other eating decisions the day before or the day of the event. Especially once you get to week 3 of Phase 3 and beyond, it's very likely that you can have a 1/6th size piece of cake without issue.
Nutrition
Calories:
137
kcal
|
Carbohydrates:
6
g
|
Protein:
5
g
|
Fat:
11
g
|
Fiber:
2
g
|
Net Carbs:
4
g