Enjoy my recipe below!
Everyone gets a few free recipes from the P3toLife Program. Just scroll down to see it.
Feeling a bit lost with what exactly to eat on Phase 3 of hCG? Get my FREE email mini-course on how to: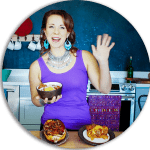 P3tolife Program Testimonial
"This is my new lifestyle"
I'm so excited to try these new recipes you just added. I did Keto for awhile after completing up to week 4 of P3tolife. I found that I had binge like tendencies come back with Keto so I returned to following the P3toLife Meals. This is my new lifestyle. Thank you Rayzel!"
–becky
Ingredients
PORK CHOPS
12

oz

pork chops

boneless

1

orange

zest and juice

1

lime

zest and juice

2

tsp

olive oil

1/4

cup

red onion

minced

3

cloves

garlic

minced

1

tsp

oregano

1

tsp

cumin

1

pinch

Sea salt and black pepper

Fresh cilantro

Finely chopped, optional garnish
ZUCCHINI FRIES
2

large

zucchini

1/4

cup

gluten-free breadcrumbs

such as Glutino

1/4

cup

Parmesan cheese

finely grated

2

tsp

salt-free seasoning of your choice

I like McCormick Garlic & Herb

2

egg whites

1

tbsp

olive oil
Instructions
PORK MARINADE: Zest and juice the orange and lime into a small bowl. Add the olive oil, minced red onion, minced garlic, oregano, cumin, salt, and pepper. Whisk until well combined. Place the pork chops in a large ziptop bag and pour the marinade over them. Refrigerate for at least 30 minutes or up to several hours.

ZUCCHINI FRIES: Cut the ends off the zucchini and cut each one in half. Slice each halved zucchini lengthwise into 3 strips, then cut the strips into fries.

PREHEAT the oven to 425°F and grease a large baking sheet with 1 tbsp of olive oil. Beat the egg whites and place in a shallow bowl. Combine the gluten-free breadcrumbs, parmesan cheese, and salt-free seasoning in another shallow bowl. Dip each zucchini strip into the egg whites then the breadcrumbs, shake off any excess, and place onto the prepared baking sheet.

BAKE the zucchini for 15 minutes, flip, and continue baking for another 15 minutes, until golden brown and crisp. While the zucchini fries bake, preheat the grill and coat with non-stick cooking spray.

REMOVE the pork chops from the marinade (do not discard) and grill for 5-7 minutes per side (depending on the thickness), until they reach an internal temperature of 145°F.

TRANSFER the remaining marinade to a small saucepan and bring to a rolling boil. Reduce heat to medium and simmer for 5-10 minutes. The marinade will reduce significantly (down to a couple of tablespoons). Spoon the reduced marinade over the pork chops and garnish with finely chopped cilantro, if desired. Serve with the zucchini fries, and enjoy!
Notes
Note: Parchment paper under fries worked best so they didn't stick to pan. For fries with Parmesan only and no breadcrumbs for those who want to keep the meal lower carb, do not roll fries in cheese (uses too much cheese), rather dip the fries egg wash as normal, place on parchment covered baking sheet, then SPRINKLE the cheese evenly over the fries.
Yields: 2 servings
Nutrition
Calories:
511
kcal
|
Carbohydrates:
30
g
|
Protein:
54
g
|
Fat:
21
g
|
Fiber:
6
g
|
Net Carbs:
24
g