Everyone gets 3 free recipes from the P3tolife program! Just scroll down to see it. Enjoy this one.
Sign up for my free mini-course that shows you just HOW the P3tolife program is different from DIY P3 recipe searches on Pinterest.
Free P3tolife vs Pinterest Mini-Course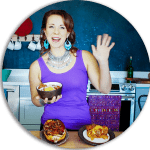 P3tolife Program Testimonial
="I feel it really put me on the right path."
Rayzel,
Thank you so much for checking in. I have been loving the recipes. I went on a trip so I'm just working through Week 6 and have Week 7 left to go. I am working out hard again and am starting to stabilize. During the week- I kind of stick to the program and eat cleanly and then go out to eat on the weekends and have glass of wine or two. I notice the scale weight move around but have been able to stay within my 2 pounds. I'm doing a boot camp/HITT class M,W, F and doing some exercise usually 2-3 other days. Sometimes some spin, a run, hiking, yoga….whatever feels good for that day.
I have honestly noticed that when I don't eat like your recipes outline or do not have enough protein, I'm not only more hungry but don't feel as well. Wine and drinking, in general, has not been my friend in more ways than one. I have no tolerance for it now. I feel awful with the smallest amount and can't drink a lot. It's been weird. But overall-I have sung the praises of your site, the recipes, and just the experience in general to as many people as will listen.
The effort, time, and care you have put into the recipes and program is just incredible and for me personally, it was a godsend. I feel it really put me on the right path.
earlier email...
Hi- I am so enjoying your P3 protocol and all the recipes have been so very delicious. It's been a true treat… This has made my transition so easy and tasty. I am truly thankful for the resources and care you are providing for this program. Your commitment and interest in helping the community are very apparent and just wanted to say thanks!
–Nancy
Ingredients
1/4

cup

coconut flour

1

medium

ripe banana

5

egg whites

separated

1/4

cup

walnut pieces

divided

1

tbsp

unsalted butter

softened

1/2

cup

unsweetened coconut milk

from carton

1/4

cup

Swerve

1/2

tsp

baking powder

1/2

tsp

cinnamon

1/8

tsp

pink Himalayan sea salt
Instructions
PREHEAT oven to 350°F and grease 6 muffin tins with non-stick olive oil spray or coconut oil. In a small mixing bowl, whisk together coconut flour, Swerve, baking powder, cinnamon and sea salt. In a medium mixing bowl, beat egg whites until soft peaks form. Set aside.

IN a separate mixing bowl, mash banana and use a hand mixer to beat in 3 egg whites, coconut milk, and butter until smooth. Pour wet ingredients into dry and mix on low speed to combine. Stir in 1/2 of walnuts.

USE a spatula to gently fold egg whites into batter. Using a 1/3 measuring cup, pour batter into prepared muffin tins. Sprinkle with remaining walnuts. Bake 25-30 minutes. Cool 10 minutes.
Nutrition
Calories:
211
kcal
|
Carbohydrates:
16
g
|
Protein:
9
g
|
Fat:
13
g
|
Fiber:
5
g
|
Net Carbs:
11
g