Everyone gets 3 free recipes from the P3tolife program! Just scroll down to see it. Enjoy this one.
Sign up for my free mini-course that shows you just HOW the P3tolife program is different from DIY P3 recipe searches on Pinterest.
Free P3tolife vs Pinterest Mini-Course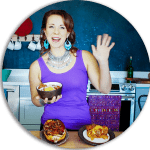 P3tolife Program Testimonial
"Lost 2 lbs. on day 1 of the P3 program"
I want you to know that all the time and hard work you put into figuring all this out for P3 is greatly appreciated by me. I am the baby of the family, babies left on their own flounder. I am a rule keeper and obedient so having a program and lists to follow is fantastic. Before I even cooked I checked off the things I needed to buy at the store. It was a joy to shop with the list. I saw things I would have bought before and would have rotted in the fridge. Now everything I bought I will use in the recipes.
I am an egg person. I must have eggs for breakfast, so the egg muffin is wonderful for me. I am not a pudding for breakfast person. I like all the recipes and with some changes they will suit my taste. I will replace that pepper in chili with a bell green pepper. I live in Arizona so I put Serrano peppers in everything. They are spicy and not as burning as other hot peppers.
I did a round of about 35 days of hCG injections. Lost 23 pounds. Then after the 3 days I ate and gained back 11 pounds. I ordered your P3 and the very first day of meals and I lost 2 lbs. I am only on day 4 of first week and I have lost 4 pounds total. I am 5' 2" and was 192 when I started. The first 2 days of the meal plan I was hungry when I went to bed so I had 2 slices bread and peanut butter and jalepeno jelly and still lost weight. I watched your video on being hungry and realized I need more food. I made the choco pudding but only use a spoonful if I feel like something sweet.
God bless you for all the work you put into this plan. I weighed 107 all my life till I was 42 and stopped smoking and started putting it on. I am 75 this month and happy to be able to lose my huge belly. I am Type 2 diabetic too. Reading the stories gives me hope and motivation to keep this up. I could eat 3 egg omelettes with cheese and salsa and not make it to noon when I ate at 6am. Now I eat at 6:30am -- 2 egg muffins and last till noon or better. Again you have the correct foods in the correct order. Thank you so much.
–Ruthanne
Ingredients
2

eggs

1

cup

carrots

grated or riced*

1/2 - 1

tsp

smoked paprika

1/4

tsp

sea salt

Fresh parsley or cilantro

chopped
Instructions
HEAT a skillet over medium heat and spray with nonstick cooking spray. Add grated carrot and sauté 2-3 minutes.

IN a small bowl, beat eggs and stir in smoked paprika. Pour over carrots and stir to combine. Use a spatula to scramble eggs. Continue to cook 3 minutes or until eggs are cooked. Season with salt and garnish with chopped parsley/cilantro.
Notes
*You can make carrot rice by pulsing large carrot chunks in a food processor. You could batch cook this x2 for Original Meal plan in week 7 and reheat for the other day. Or at least pre-grate 2x the carrots so it's ready to go for the other mornings.
Nutrition
Calories:
192
kcal
|
Carbohydrates:
12
g
|
Protein:
13
g
|
Fat:
10
g
|
Fiber:
3
g
|
Net Carbs:
9
g